Summary
Director of Photography, Cinematographer Lighting Cameraman & Camera Operator who has a track record of delivering the best results no matter what the budget, schedule or the amount of crew. Anna enjoys working with the Director and Producers to turn the productions vision into a reality.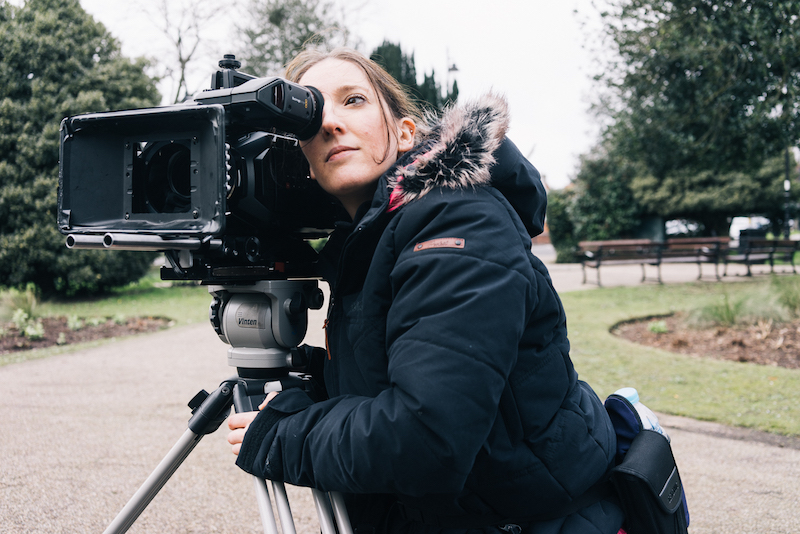 Key Skills
Lighting
Handheld
Project Planning
Shot lists
Lighting Plans
Kit and Crew Arranging
Location Recceing
Working with sun/weather
2nd Unit
Career Highlights
DOP on Feature Film Ambleton Delight which won 3 awards including Best Feature Film at The British Independent Film Festival & Best UK Feature at The End of the Pier International Film Festival. Shot in 10 days on a budget of £5000.
Camera Operating for DOP Sue Gibson BSC on feature film 31 North 62 East whilst Sue was the President of the British Society of Cinematographers.
Mentored in Cinematography for a year by DOP Henry Braham BSC on the film The Golden Compass allowed Anna to understand how to work with production designers and colourists to get the highest standard of production.
Invited onto the Judging Panel Guild of Television Cameramen Awards of Excellence 2015 & University Awards 2013 – 2015.
Employment History
Freelance Director of Photography & Camera Operator 2006 - 2018
Operating cameras and grip equipment in single and multi-camera setups.
Freelance & Employed Lecturer/Teacher 2006 – 2018
Specialising in teaching Camera & Lighting.
Freelance Focus Puller 2004 – 2006
Pulling focus on moving shots including steadicam, jimmi-jib & motion control.
Freelance Clapper Loader 2002 - 2004
Loading film into film magazines and slating with a clapperboard.
Selected DOP Credits
Short Film: The Woods Dir: Alex Browning, Fast Shadow Productions 2014
Short Film: Out of Darkness Dir: Amy Coop, Angelic Films, 2013
Music Video: Duck Hunt Inner City Pirates, Dir: Bahar Cancar, Subbubble Studios, 2010
Short Film: The View* Dir: Neil Neenan, 2009
Live Album: Operahouse Dir: Sian Fever, JJStereo, 2008
Advert: Lush Facial Spa Dir: Henry Dalton, TDF Films Ltd, 2008
Feature Length Documentary: Welcome Aboard Toxic Airlines** Dir: Tristan Loraine, Fact Not Fiction Films, 2007
Documentary: Hayley Westenra Tour Northern Ireland Dir: Tristan Loraine, Fact Not Fiction Films, 2008 Credited as Cinematographer
Music Video: Tinchy Stryder Breathe Dir: Marian Mikhail, Platinum Studios 2007
Music Video: Frisco Time is Right Dir: Marian Mikhail, Platinum Studios 2007
* Won the award for "Best Director of Photography" at The End of the Pier International Film Festival ** Cinematic Release UK
Selected Camera Operator Credits
Live Event: Lotus Cup @ Silverstone Cam Sup: Neil Neenan, LCUK, 2015
Live Event: Rock Choir Cam Sup: Karl Stevens, Mountcast Productions, 2015
Live Music: Stevie Hoang JJ Stereo, 2010
Live Music Imogen Heap 2010
Live Music La Roux Dir: Paul Caslin, JJ Stereo, 2009
Live Music Paloma Faith Dir: Sian Fever, JJ Stereo, 2009
Live Music: La Boheme Dir: Suzanne Gielgud, Gielgud Films, 2011
Technical Skills
Production Types

Feature Films
Commercials
Pop Promos
Documentaries
Live Gigs
Live Theatre
Live Events
Short Films

Grip Equipment

Chapman Peewee
Fisher 11 Dolly
Jimmi Jib
Technocrane
Steadicam
Sliders inc Floatcam
Motion Control
Milo & Titan Mo Co
Studio Peds

Genres

Drama
Period Drama
Horror
Film Noir
Sci Fi
Comedy

Other Skills

Sound
Studio Control
Self Shooting
Aerial Filming
Slow Motion

4K, HD & Film Cameras

Arri Alexa & Amira
Canon C300 & C100
Canon 5DMkiii & ii
Sony F65, F55 & F5
Sony F900 & 750
Sony XDCam
Sony EX3 & EX1
Thompson Viper
Panavision Genesis
Panasonic Varicam
Aaton 35mm
Panavision Platinum & Millennium
Arri 535 & 435
Aaton 16mm
Arri SR3 & SR2
Qualifications & Education
Advanced Studio Camera Course, BBC Wood Norton 2014
Steadicam Bronze Course, Tiffen International 2011
WFTV "Technical Change Scheme" Mentored by Henry Braham BSC 2006 - 2007
2:1 BA (Hons) Film & Video Production Surrey Institute of Art & Design 1999-2002
Testimonial
"Anna worked will under the pressure from stepping in a replacing our existing DOP, due to ill health. She jumped straight in and demonstrated her ability and professionalism, during what at times was a very fraught shoot. I look forward to staying in touch with Anna, and working with her again." --Will Wright 2014